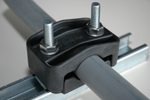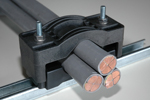 Etech Components UK are now pleased to offer the Dutchclamp range of Cable Clamps, Cable Cleats and Cable Blocks.

These high quality products are the result of extensive market research and product development over 25 years and the Dutchclamp cable clamps have been used on major projects throughout the world.


The model:
The range of models available for each type of cable clamp ensures a perfect fit to achieve the required short-circuit-proof mounting of the expensive cables.

The raw material:
All the clamps are manufactured using state-of-the-art materials, with polyamide (PA) as the main constituent element.

Robustness:
The unique design, in combination with the specific composition of the raw materials, makes these dutchclamp plastic cable clamps among the strongest in the world.

Diversity:
Suitable for single- and multi-conductor cables mounted individually (12-1

70

mm diameter) and for single- and multi-conductor cables mounted in a triangular

(Trefoil)

configuration (27-1

50

mm diameter).
The Triple and IM types are stackable

as is the SE 15-26

.
Cable blocks can be supplied in any desired configuration, in accordance with specifications from the

client

.

Testing:
The dutchclamp cable cleats are tested by UL, Damstra Laboratory (KEMA registered), Eaton and Centrilab (reports available upon request).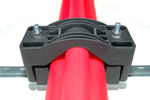 Characteristics:


· Simple installation.

· Withstand short-circuit currents up to 202 kA.

· Mechanical tensile strength up to 68,800 Nm.

· Resistant to oils, UV, ozone, salts, moisture, acids and even radioactive emissions.

· Self-extinguishing V-0 (UL94), halogen-free, low smoke.

· Temperature range from -40 °C to 120 °C.

· Black coloured.

· Available pre-mounted.

· Fasteners meeting your specifications can be included.