Dutchclamp SE 15 - 26 Types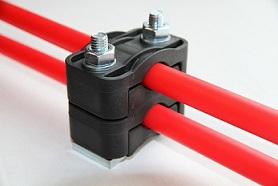 For the mounting of one single- or multi-conductor cable. For low, medium and high voltage cables with diameters of 15 - 26 mm as well as conduits and hoses

- Characteristics:
- Made of glass fibre reinforced polyamide (PA)
- Resistant to oils, UV, ozone, salts, moisture, acids and even radioactive emissions.
- Self-extinguishing V-0 (UL94), halogen-free, low smoke.
- Temperature range from -40 °C to 120 °C.
- Mechanical strength: 20,000 Nm.
- Black coloured.
- Available pre-mounted.
- Fasteners meeting your specifications can be included.
- Stackable.
Testing:
By UL, KEMA, Eaton and Centrilab (reports available upon request).
Dimensions in mm

Mechanical
strength
Type

D ø
L
B
l
d
H1
H2

h
a
SE 15-26

15-26
77
45
50
10
26-42
4
17
8
20.000 Nm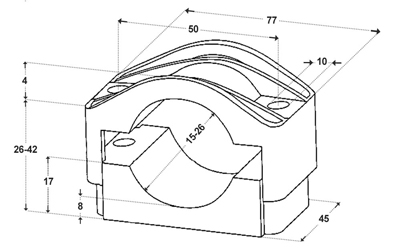 - Download the Data Sheet for Dutchclamp SE Type Cable Cleats