Dutchclamp Unifix IM 32-48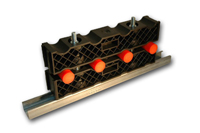 Applications: For mounting four single- or multi-conductor cables or any multiple thereof. Low, medium and high voltage cables with diameters of 32 - 48 mm as well as conduits and hoses.

Characteristics:
· Made of glass fibre reinforced polyamide (PA).
· Resistant to oils, UV, ozone, salts, moisture, acids and even radioactive emissions.
· Self-extinguishing V-0 (UL94), halogen-free, low smoke.
· The mounting holes are Ø13 mm, allowing the allthread to be extended with threaded bushes at any desired location, thereby eliminating the possibility of damage when cables are installed in multiple layers. The existing configuration can be expanded at any time... easily, simply and at little cost.
· Temperature range from -40 °C to 120 °C.
· Mechanical strength: 29,500 Nm.
· Stackable.
· Dovetail connections for end-to-end attachment.
· Black coloured.
· Available pre-mounted.
· Fasteners meeting your specifications can be included.
Testing:
By UL, KEMA, Eaton and Centrilab (reports available upon request).
Dimension diagram:
| | |
| --- | --- |
| 1 layer of cable | (2 pieces) for installation of 4 cables of 32 - 48 mm diameter |
| 2 layers of cable | (3 pieces) for installation of 8 cables of 32 - 48 mm diameter |
| 3 layers of cable | (4 pieces) for installation of 12 cables of 32 - 48 mm diameter |
| 4 layers of cable | (5 pieces) for installation of 16 cables of 32 - 48 mm diameter |
| 5 layers of cable | (6 pieces) for installation of 20 cables of 32 - 48 mm diameter |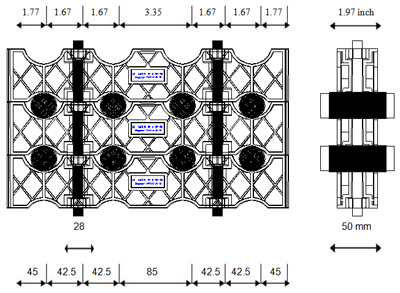 - Download the Data Sheet for Dutchclamp Unifix IM Cable Transit Blocks